INVESTMENT HIGHLIGHTS
Located in South Granville, the Roman Court Apartments is just a few short blocks from both Granville Street and West Broadway. Tenants benefit from living on a quiet tree-lined street while being just steps from a cross section of amenities, shops, services and transit providing convenient access to Downtown Vancouver, the University of British Columbia and across Metro Vancouver;

The Roman Court Apartments is situated on a 25,000 Sq. Ft. lot boasting 200 ft of frontage onto West 14th Avenue. There are a limited number of properties with 200 feet of frontage on the West Side of Vancouver, making this a unique opportunity for investors and increasing the redevelopment potential being considered within the Broadway Corridor Plan Study Area;

Many of the rents in the Roman Court are below market currently averaging $2.27/Sq. Ft, creating the opportunity for a new owner to create value by increasing rents on turnover while holding the property;

Title will be delivered free and clear of all financial encumbrances allowing prospective purchasers to capitalize on the current unprecedented low interest rate environment;

Property is held in a Bare Trust Nominee company.
[et_pb_anypage_lightbox _builder_version="4.6.6″ lightbox_id="popup" lightbox_content_type="iframe" popup_url="https://cbreemail.com/s/cef6c516425c819ee130f478ce53c0df56c46f27″ lightbox_height="600px" lightbox_scrollable="yes" lightbox_x_position="x-fullwidth" lightbox_animation="None" lightbox_animation_ajax="None" lightbox_pop_onload="off" lightbox_pop_onexit="off" box_shadow_horizontal_tablet="0px" box_shadow_vertical_tablet="0px" box_shadow_blur_tablet="40px" box_shadow_spread_tablet="0px" vertical_offset_tablet="0″ horizontal_offset_tablet="0″ z_index_tablet="0″ /]
Thank you for your interest in the South Granville Apartment Portfolio. To download our brochure and better understand your needs, please enter your information below.
LANCE COULSON
Executive Vice President
Personal Real Estate Corporation
National Apartment Group
GREG AMBROSE
Senior Sales Associate
National Apartment Group
KEVIN MURRAY
Senior Sales Associate
National Apartment Group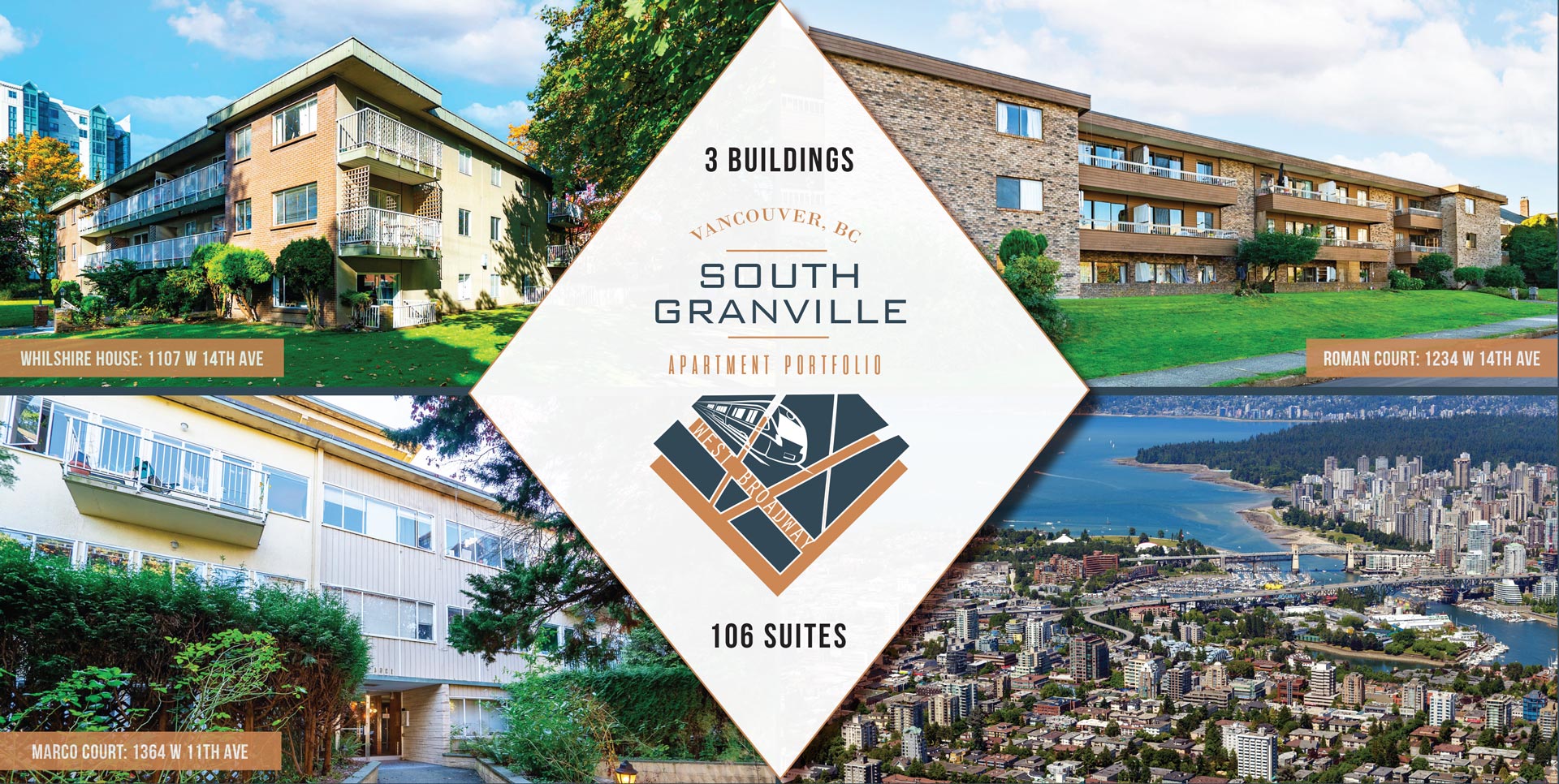 This disclaimer shall apply to CBRE Limited, Real Estate Brokerage, and to all other divisions of the Corporation; to include all employees and independent contractors ("CBRE"). The information set out herein, including, without limitation, any projections, images, opinions, assumptions and estimates obtained from third parties (the "Information") has not been verified by CBRE, and CBRE does not represent, warrant or guarantee the accuracy, correctness and completeness of the Information. CBRE does not accept or assume any responsibility or liability, direct or consequential, for the Information or the recipient's reliance upon the Information. The recipient of the Information should take such steps as the recipient may deem necessary to verify the Information prior to placing any reliance upon the Information. The Information may change and any property described in the Information may be withdrawn from the market at any time without notice or obligation to the recipient from CBRE. CBRE and the CBRE logo are the service marks of CBRE Limited and/or its affiliated or related companies in other countries. All other marks displayed on this document are the Property of their respective owners. All Rights Reserved. Mapping Source: Google Earth.