For Sale
813 E Broadway | Vancouver BC
BROADWAY PLAN DEVELOPMENT SITE
Opportunity to acquire a Residential Tower Site in the Heart of Vancouver's Vibrant Mount Pleasant Neighbourhood with no rental replacement or social housing requirement in close proximity to Amenities, Future SkyTrain and Emerging Tech Hub.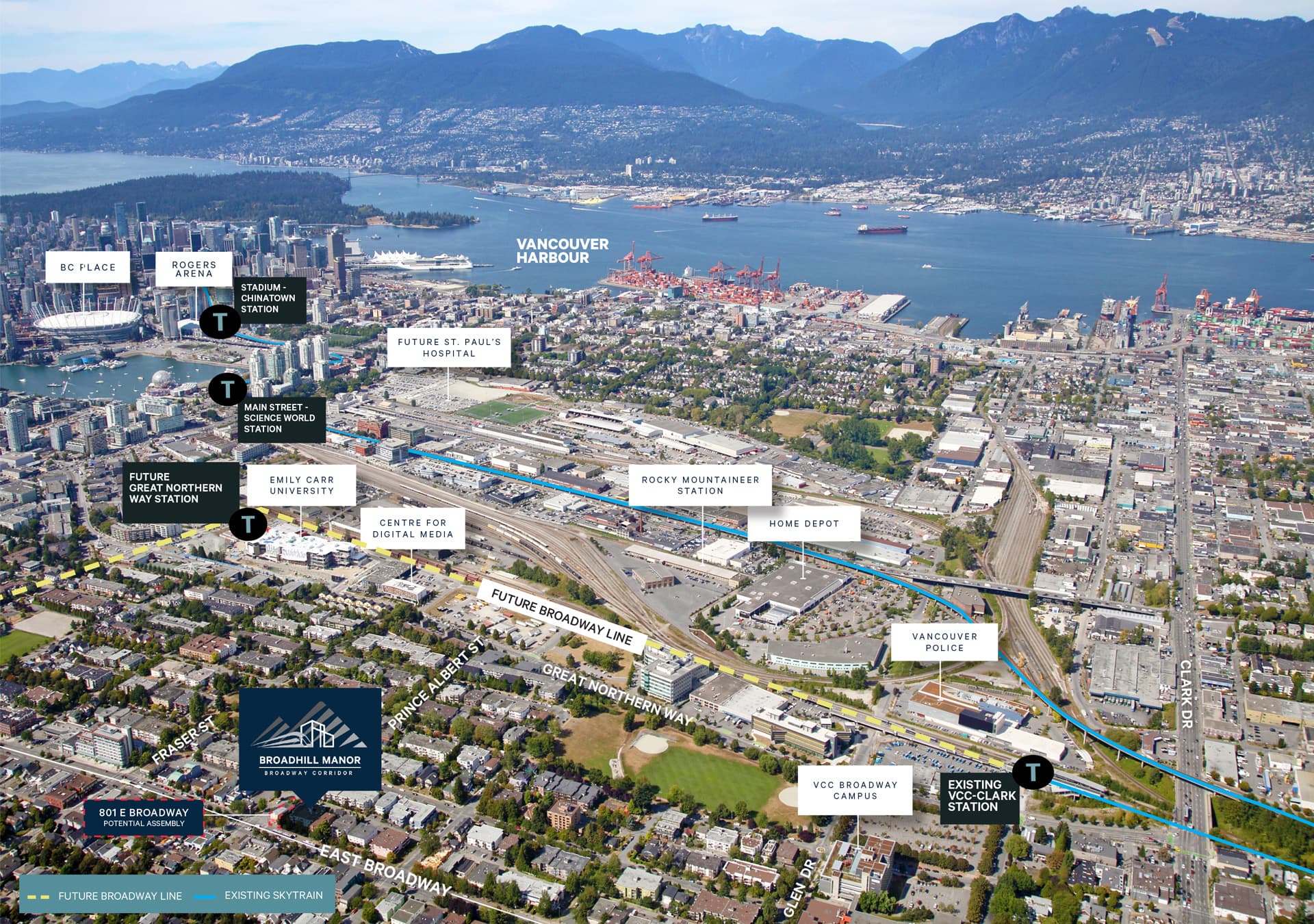 The Offering
On behalf of the owners of the Strata Corporation VAS155
(collectively the "Vendors"), CBRE Limited (CBRE) (the "Agent") is pleased to offer for sale 813 East Broadway, Vancouver, BC (the "Property").
The 12,080 sq. ft. (approximately) site is currently improved with a 3-storey condominium building comprised of 17 stratified units with the potential opportunity to assemble the corner property at 801 E. Broadway for a combined total 16,107 sq. ft. corner site. Property is well located in the vibrant Mount Pleasant community of Vancouver, just steps from two future Skytrain stations and in close proximity to numerous shopping and recreational amenities.
The Offering Process
The Vendor of 813 East Broadway is a strata corporation. Any offer to purchase all 17 strata lots and common property comprising Strata Plan VAS155 is subject to the provisions of the Strata Property Act. All prospective purchasers will be advised of an offer submission date after an initial marketing period.
Submission Guidelines
The Vendors have adopted an unpriced, modified bid process. Interested parties are invited to submit an offer in the form of a Letter of Intent (which will be provided upon request) that addresses the requirements below:
Purchase Price and confirmation of the deposits payable for the Property;
Name of the prospective Purchaser(s) and contact information;
Terms and conditions of closing;
Schedule of timing and events to complete Closing; and
Confirmation that the Property is being purchased on an "as-is" basis.
Bid Submission Date
To be announced following the full marketing process.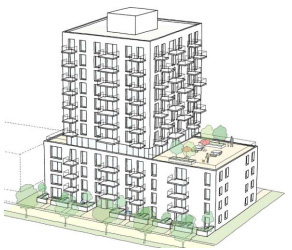 Property Profile
Opportunity to acquire a High-Density Residential Tower Development Site in The Heart of Vancouver's Vibrant Mount Pleasant Neighbourhood. The 12,080 sq.ft. site is currently improved with a 3-storey condo complex consisting of 17 stratified condo units and is strategically located in Vancouver's vibrant Mount Pleasant neighbourhood in close proximity to amenities, Vancouver's emerging tech hub and two future Skytrain Stations!
The property is located on the North Side of East Broadway on the corner of Prince Albert Street and is designated Mount Pleasant North Apartment Area B (MNAB) in the Broadway Plan which supports the long-term renewal of older residential buildings. The MNAB policy area provides general built form guidelines for either secured market rental housing up to 20-storeys with a maximum density of 6.5 FSR or market strata /condo housing up to 12-storeys with a maximum 4 FSR.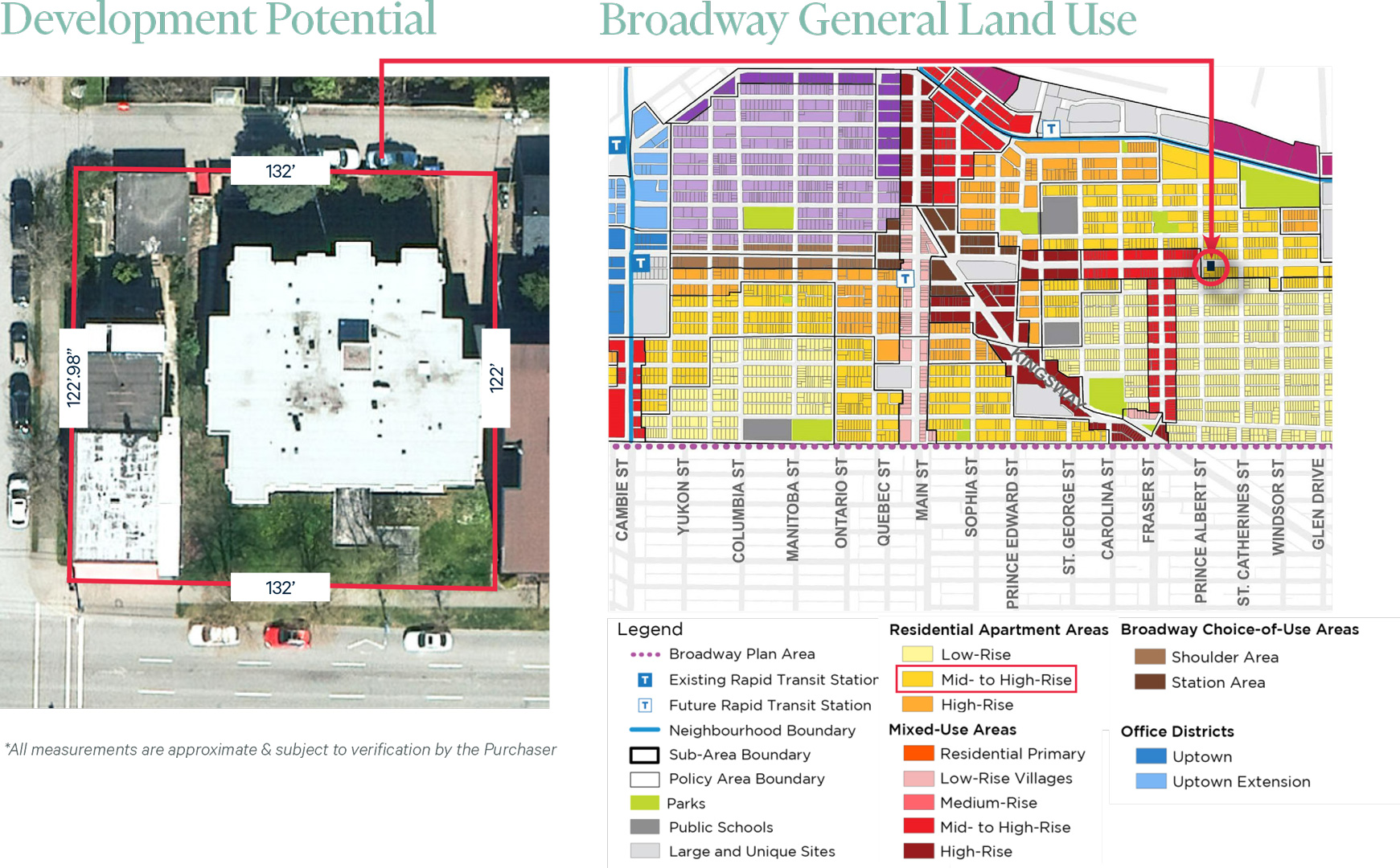 Location Highlights
The Broadway corridor will experience a significant amount of growth over the next 30 years and it is becoming a consistent choice for investors and owner-occupiers alike.
The subject property is located in the highly desirable and convenient centre of East Broadway, in Vancouver's highly sought-after Mount Pleasant Neighbourhood. The property is prominently situated on the Northeast corner of East Broadway and Prince Albert Street.
The property is situated in the hub of BC's second-largest job centre, with emerging innovation and research facilities, educational institutions and growing residential communities.
It is easily accessible by four frequent bus routes, including the 99 Commercial-Broadway/UBC (B-Line) and it is strategically positioned within a few short blocks from the VCC Clark SkyTrain Station on Keith Drive. The highly anticipated Broadway Subway Project, set to complete in 2025, will provide fast, frequent, and convenient transit service to the area, linking to the existing Millennium Line along Broadway and up to Arbutus street, connecting the areas anticipated 40,000 + new residents over the next 30 years.
There is an excellent cross-section of tenant friendly amenities including numerous retail shops & services, a variety of local restaurants on East Broadway, Main Street & Commercial Drive. The property is centred in the Tech Hub of Vancouver, with Mount Pleasant seeing a recent uptake of investment in the tech sector. Global tech giants such as Dapper Labs, Hootsuite, Samsung R&D Institute Canada and WeWork have decided to call this area home.
Students are attracted to this area with schools such as the Emily Carr University of Art + Design, as well as the Vancouver Community College – Broadway Campus just steps away from your front door.
Scoring highly on its walk, transit and bike scores, residents of this area enjoy access to a premiere selection of technology, arts, parks, schools and campuses, all within walking distance, providing a truly desirable location to call home.
A SHORT WALK AWAY FROM VCC-CLARK SKYTRAIN STATION, THE 99-B LINE AND THE COMING BROADWAY SUBWAY EXTENSION, PROVIDING ACCESS TO MOST OF METRO VANCOUVER
EASY CONNECTION ALONG THE BROADWAY CORRIDOR AND CLOSE PROXIMITY TO MAJOR ARTERIAL ROUTES; MAIN STREET
(2 MINUTES), KINGSWAY (3 MINUTES), HIGHWAY 1 (9 MINUTES) AND HIGHWAY 99 (10 MINUTES)
Area Demographics
WITHIN 3 KM OF THE PROPERTY
209,380
ESTIMATED POPULATION (2022)
227,772
PROJECTED POPULATION (2027)(2022)
$117,123
HOUSEHOLD INCOME (2022)
$138,988
ESTIMATED POPULATION (2027)
44.0%
OWNDED DWELLINGS (2022)
BLOCKS AWAY FROM EDUCATIONAL FACILITIES
A SHORT WALK TO THE VCC-CLARK STATION
A MULTITUDE OF SHOPS AT YOUR FINGERTIPS
Finally

an Offering that provides Developers with everything they're looking for!
High Density Development in one of the strongest residential condo markets in BC
Walking distance to educational institutions and the high tech sector in Vancouver
Conveniently located a few minutes away from VCC-Clark SkyTrain Station
Future high-rise condo site with potential for exceptional views and prime location
Lance Coulson
Personal Real Estate Corporation
Executive Vice President
lance.coulson@cbre.com
604 662 5141
Greg Ambrose
Vice President
greg.ambrose@cbre.com
604 662 5178